AirLink ES440 Data Sheet

The AirLink® ES440 enterprise gateway delivers mission-critical 4G LTE connectivity when primary landline connections are unavailable. Deployed with an enterprise router, the ES440 supports a best-in-class business continuity strategy by enabling out-of-band management (OOBM) capability
to network operations while leveraging the router's instant failover and firewall features.
In addition, the ES440 can be configured to send its management data via
the DSL/cable gateway using reliable static route protocol to reduce wireless
network costs.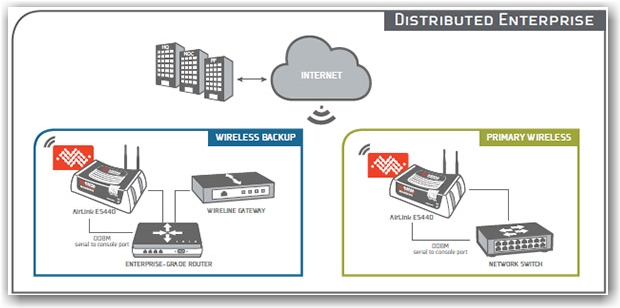 Benefits to this enterprise-class business continuity solution include:
• Improved Internet uptime to keep your branches, kiosks, and retail operations online
• Seamless failover for continuous uptime of mission critical applications
• Reduced field visits for network equipment resets and updates
• High speed LTE network, faster than DSL
Out-of-Band Management (OOBM)
Using the AirLink ES440's serial port to connect to the console port of the
router, IT administrators can troubleshoot and repair network equipment
over wireless wide area networks (WWAN). This terminal server capability
allows operation centers to remotely reboot, configure, and update a router
via the ES440 using Reverse Telnet and SSH protocols. As a result, remote
personnel no longer need to manually reset their networking equipment and
IT administrators can dramatically reduce the number of field visits. 
Features:
• 4G LTE with automatic fallback to 3G
• Remote out-of-band management
• 3-year warranty
• Leverages your router's instant failover and firewall features
• AirVantage® Management Service for remotely configuring, deploying, and troubleshooting the ES440 that works in parallel with your network management systems